XERUN Bandit Brushless Motor G2 - Outlaw Edition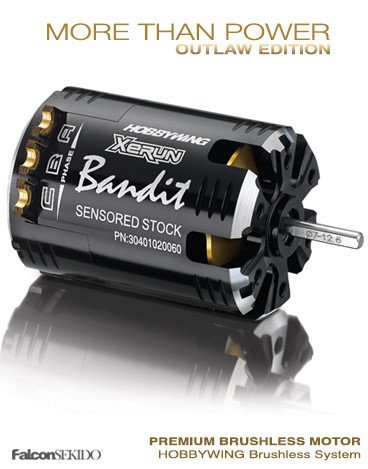 XERUN Bandit Brushless Motor G2 - Outlaw Edition
☆☆☆☆☆ | MSRP $125.00
"BANDIT"
More than Power
Best possible materials used to achieve the maximum power.
Extreme powerful (the output power of BANDIT V10 motor is

20% higher

than the standard V10 motors) , specially designed for out-law STOCK races.
Designed to withstand extreme levels of use at its highest peak performance.
Complete new CNC cut motor case with extra front spoke ventilation slots.
Multiple steps of mechanical timing adjustable from 20 degree to 50 degree.
Minimal maintenance is required with precise machining technology which ensures a minimum tolerance end play of the rotor shaft. Eliminating the copper shims used in most of today's motors.
200℃ high temperature purity copper windings maximizes conductivity
200°C high temperature tolerance sintered NdFeb magnets.
Extremely low resistance multi-layer outlet PCB (Printed Circuit Board)
Removable/ replaceable rotor
High RPM precision bearings
Super-High efficiency energy

Due to extremely high-spec product, BANDIT motor isn't compliant with ROAR, IFMAR, BRCA and JMRCA rules.
User Manual Download >> Xerun Motor User Manual

Part List: The XERUN BANDIT Motor has the parts listed below.